Many international students wish to stay after their studies in Germany for a while to gain work experience. The region of Baden-Württemberg has a lot to offer in this context. Numerous global companies like Porsche, Daimler, Bosch, IBM, etc. are based here. But not only the 'big players' are attractive to international students but also the over 500.000 small and medium sized enterprises in the region, that often are global market leaders in their field.
Faculty 5 aims to support its international students on their career path by showing the variety of job opportunities and local companies in the region as well as providing first-hand information and establishing contacts to possible future employers.
+++
We offer the opportunity to visit two interesting companies this semester:
1st Faculty 5 Company Visit: ads-tec Energy GmbH
A medium-sized company and expert in Smart Platform Solutions in Nürtingen.
Date: December 8, 2023, 9:30 am -1:00 pm
2st Faculty 5 Company Visit: Bosch Research
Central department for research and development of the Robert Bosch GmbH in Renningen
Date: January 26, 2024, 9:30 am – 3:00 pm | Registration will open on November 20! Please restrain from registering before.
+++
Places are limited for both visits. Registration is mandatory.
We hope that many of our international students at Faculty 5 grab this chance and join us for the first two company visits.
The ISP Team of Faculty 5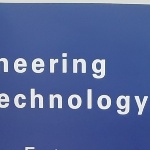 Laura Busch
Coordinator International Service Point Faculty 5