Fachlicher Austausch rund um das Thema Automatisierung und interdisziplinäre Vernetzung in den Bereichen Industrie- und Fabrikautomation: Die 27. "International Conference on Emerging Technologies and Factory Automation (ETFA)", durchgeführt vom Institut für Automatisierungstechnik und Softwaresysteme (IAS) der Universität Stuttgart, war ein voller Erfolg. Rund 400 internationale Expertinnen und Experten aus Industrie und Wissenschaft beteiligten sich an der Konferenz vom 6. bis 9. September 2022, die neben hochkarätigen Vorträgen und Workshops auch ein abwechslungsreiches und stilvolles Rahmenprogramm umfasste. Moderiert wurde die Tagung durch den Leiter des IAS, Prof. Michael Weyrich, seitens der Universität Stuttgart begrüßte der Prorektor Forschung und wissenschaftlicher Nachwuchs, Prof. Dr. Manfred Bischoff, die Gäste.
Foto: v.l. Prof. Michael Weyrich, IAS, Bürgermeisterin Isabel Fezer (Stadt Stuttgart) und Karina Grützner (Stuttgart Marketing) (c) IAS
Highlights im fachlichen Programm waren die Keynotes von Prof. Detlef Zuehlke (RWTH Aachen) über Industrie 4.0 von der Technologie zur Alltagsnutzung, Dr. Kirsten Matheus (BMW) über Ethernet-Verbindungen, Dr. Jens Ottnad (TRUMPF) über den Paradigmenwechsel im Maschinenbau durch Künstliche Intelligenz (KI) sowie Dr. Andrea Dunbar (Centre Suisse d'Electronique et de Microtechnique, CSEM) über Datenanalyse und KI in der industriellen Steuerung.
Zum Rahmenprogramm gehörte ein Willkommensempfang mit offizieller Begrüßung seitens der Bürgermeisterin der Stadt Stuttgart, Isabel Fezer, und musikalischer Untermalung durch das Barraqué-Kastler Jazzduo im Weißen Saal des Neuen Schlosses. Am nächsten Tag erwartete die aus vier Kontinenten stammenden Teilnehmerinnen und Teilnehmer eine Werksführung im Mercedes-Benz-Werk Sindelfingen. Den Höhepunkt der diesjährigen ETFA-Konferenz bildete am vorletzten Konferenztag ein Gala-Dinner, in das auch die offizielle Preisverleihung der Best-Paper-Awards eingebunden war.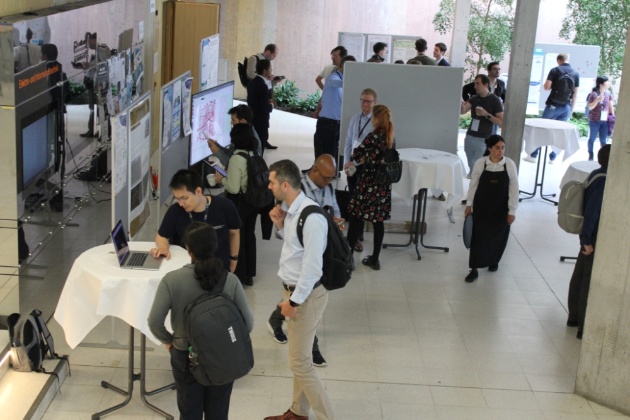 Foto: IAS

Preisträger der Best Paper Awards
Die Preisträger der Best Paper-Awards waren
Kai-Björn Gemlau, Nora Sperling, Rolf Ernst : Efficient Timing Isolation for Mixed-Criticality Communication Stacks in Performance Architectures
Mateu Jover, Manuel Barranco, Inés Álvarez, Julián Proenza : Migrating Legacy Ethernet-Based Traffic with Spatial Redundancy to TSN networks
Carlos Resende, Waldir Moreira, Luís Almeida : NextGenGW: a software-based architecture targeting IoT interoperability
Oriol Ruiz, Jan Rosell, Mohammed Diab : Reasoning and state monitoring for the robust execution of robotic manipulation tasks
Begleitet wurde die Konferenz durch eine mehrtägige Industrieausstellung mit namhaften Unternehmen wie Siemens oder SEW Eurodrive. Die diesjährige ETFA-Konferenz erzielte ein überaus positives Feedback sowohl bei Besucherinnen und Besuchern, als auch bei den Mitarbeiterinnen und Mitarbeitern des IAS. Auch die beteiligten Studierenden waren sehr begeistert, konnten sie doch viel über IT und Software mit Anwendung in der Automatisierung und in Autonomen Systeme erfahren.
| | |
| --- | --- |
| Kontakt | Prof. Michael Weyrich, Institut für Automatisierungstechnik und Softwaresysteme (IAS), Tel. +49 711 685 67301, E-Mail |