Institutes of the Department of Computer Science
At the Department of Computer Science, 35 professors are currently researching and teaching in eight assigned institutes, which have specialized in their respective focal points in teaching and research.
Founded in 1970, the Department of Computer Science continuously grew to eventually become a research institution of international renown. Today we belong to the Faculty 5 of Computer Science, Electrical Engineering and Information Technology.
We are an important partner in the Excellence Cluster of Simulation Technology (SimTech), in the Graduate School advanced Manufacturing Engineering (GSaME) and in several research networks of the university. Cooperations with non-university research institutions, neighbouring universities and colleges characterizes our research profile.
For that matter, we feel connected to the high-tech region of Baden-Württemberg. This also applies to our numerous industrial partners in research. Our degree programs take into account the enormous breadth of the field of computer science and allow students many choices as well as space for independent work.
More information on the history of the department of computer science.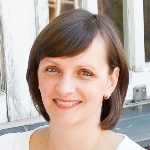 Katrin Schneider
Dr.
Program Manager, Department Manager & Erasmus Coordinator of the Computer Science Department